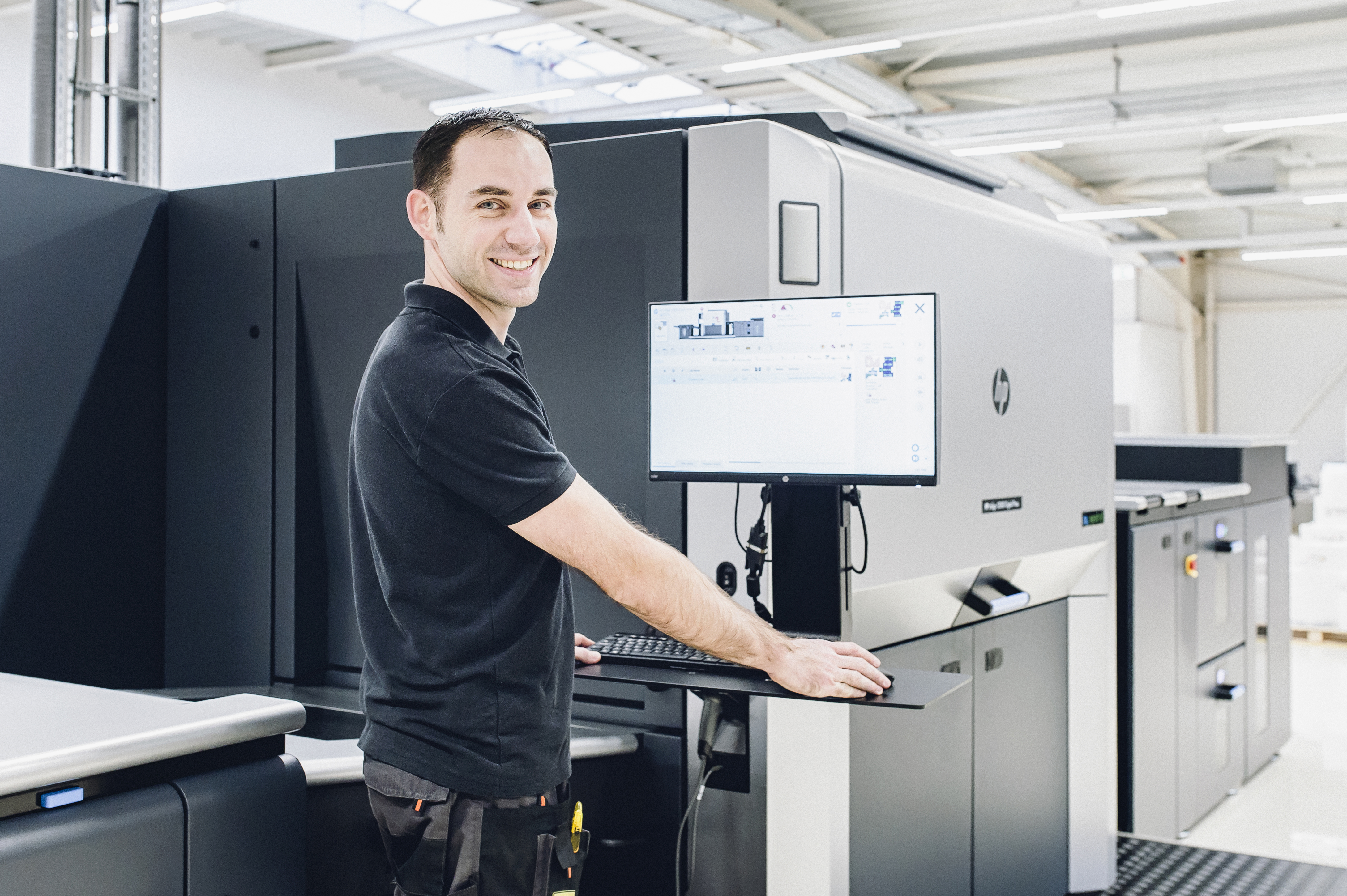 Zeithain - 08.01.2018 "We're in!" - The packaging specialists of harder-online GmbH from Zeithain will be represented for the first time at the "KarriereStart" in Dresden with their own stand. From 19 to 21 January, the company will present its diverse job and training offers at the largest education, job and start-up fair in the Free State of Saxony. 
"Our company has grown disproportionately in recent years, the number of employees has more than doubled in this time and will continue to grow. It is therefore important for us to meet the future demand for skilled workers from the region and to create apprenticeships for modern printing professions ourselves," says Stefan Harder, owner of harder-online GmbH, explaining the reasons for participating in the career fair. 
This year, the high-tech printing company will train media technologists for printing and print finishing. Detailed information is available to all interested parties in Hall 2 at Stand B 12 and on the labelprint24.com website. "We invite you to visit our stand and talk to our staff."
harder-online GmbH is a system manufacturer of packaging materials operating throughout Europe. Under the brand "labelprint24",
labels
,
multilayer labels
,
folding boxes
,
package inserts
and
shipping cartons
are produced for more than 3,000 well-known customers throughout Europe. In the industry, the e-commerce provider is one of the pioneers of digital printing technology and produces at the Zeithain site in one of the first digital printing factories in Germany.
Over 30,000 visitors are expected at the Dresden Exhibition Centre on the three days of the fair to find out about the wide range of training opportunities and further education and job offers from around 500 exhibitors.

About Labelprint24
The online print shop Labelprint24 is a leading German system provider of packaging materials. Since 2018, Labelprint24 has already employed over 90 people at its locations in Germany, the Czech Republic and Poland. In the meantime, Labelprint24 not only produces labels and multilayer labels but also folding boxes, package inserts, laminate tubes and pouch packaging. Throughout Europe, Labelprint24's packaging materials are among the TOP brands for packaging and labelling products of all kinds.

Press contact:

Robert Hohmuth
harder-online GmbH
An der Borntelle 4
01619 Zeithain
+49 (0) 751 56168-262
These articles might also interest you:


HP Brand Dinner on Digital Printing

On 22 May 2019, HP hosted a Brand Dinner in Stuttgart, Germany, to present the opportunities and benefits of digital printing to brand owners from a variety of industries: Mass customisation, special editions, ...



The full programme at the fair

System manufacturer Labelprint24 starts production of laminate tubes. The company presents digitally printed cosmetics labels, sandwich and booklet labels, high-finish folding boxes and small-folded package inserts to the international trade audience, which are ideally tailored to the needs and current design trends of the cosmetics industry.


Fachpack 2019 - Labelprint24 focuses on digitalisation and speed

The most important exhibits of the Zeithain digital printing specialists include the new "digiBOX" and digitally printed laminate tubes. With both top product innovations, Labelprint24 has packaging in its portfolio with which a faster time-to-market can be achieved when launching new products.