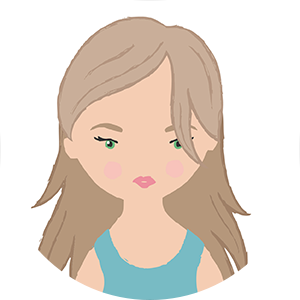 BY
Elisa Savietto
IN
Laminate tubes from Labelprint24 - new in our portfolio
The circle is closed: With laminate tubes from our own production, we can now offer our customers an even wider range of digitally printed packaging materials.
With the commissioning of a production line for the manufacture of laminate tubes from PBL and ABL laminate in Zeithain, we are entering a new product field with enormously high quality requirements and strong competitors. However, there is probably no other packaging manufacturer in the whole of Europe who can supply coordinated labels, folding cartons, package inserts and laminate tubes for packaging a product from a single source and can refer to our know-how in the digital printing of primary and secondary packaging materials.
Labelprint24 manufactures digitally printed laminate tubes made of PBL laminate(Plastic Barrier Laminate) and ABL laminate(Aluminum Barrier Laminate) for creamy, pasty and semi-liquid products, which are perfect for many industries, such as beauty & cosmetics, oral hygiene, food, household and pharmaceutical.
Both types of tubes offer the contents efficient protection against environmental influences and against loss of quality inside. Our laminate tubes have perfectly functioning barrier and hygiene properties, among others against water, water vapor, UV light or oxygen, whereby ABL laminate tubes can even be assigned to the high-barrier segment. This premium segment has barrier properties that were previously mainly attributed to extruded plastic tubes and pure aluminum tubes.
WHAT ARE THE OTHER ADVANTAGES OF LAMINATE TUBES FROM LABELPRINT24?
Fast production and delivery times: The tubes are produced in TOP quality from 1000 pieces (promotional tubes) or 5000 pieces within 3 weeks from print approval.
Many finishes: In addition to matte and glossy coatings that make the printed image even more attractive and protect the surface of the laminate from damage, our laminate tubes can also be finished with metallic foil.

Easy and affordable personalization: Digital printing of the tubes is done on an HP Indigo printing system, which allows easy personalization and customization of the laminate tubes.

We can also realize small personalized runs of cosmetic, pharmaceutical, dental or promotional tubes for flexible market tests or seasonal articles at favorable conditions, since the costs for clichés and printing plates are eliminated with digital printing.
Online calculation and immediate ordering: All laminate tubes can be calculated online, including the finishes and with various screw caps or flip-flop caps etc., and then ordered immediately.
Printing method: Inkjet digital printing 4c Euroscale

Diameter: 35 or 50 mm, individual length

Suitable for fill quantities from 50 ml to 250 ml

Delivery time: Ready for shipment in 3-4 weeks from print approval
Laminattuben aus PBL-Material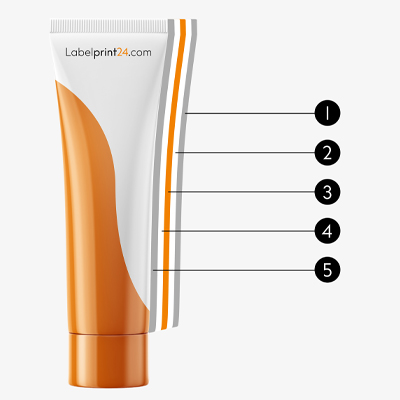 PBL tubes are a laminate tube without an aluminum layer, made entirely of plastic. This laminate tube has several layers, including a barrier layer of EVOH (Ethylene Vinyl Alcohol), which serves to protect the tube contents and prolong its life.
Material: PBL laminate, EVOH barrier, white

Minimum order quantity: from 1000 pieces

Delivery time: Ready for shipment in 3 weeks from print approval
Legend:
1. Polyethylene
2. Polyethylene layer
3.Plastic barrier
4. Polyethylene layer
5. Polyethylen
Here you can learn more about our new laminate tubes
LAMINATE TUBES FROM ABL MATERIAL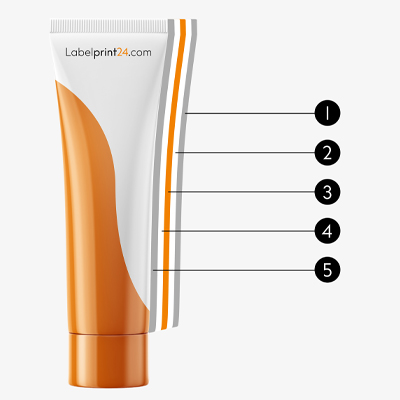 ABL laminate tubes are a laminate tube that has a thin aluminum layer between the plastic layers, effectively protecting the tube contents. The result is a plastic-metal tube that meets the requirements of high quality pharmaceutical products and cosmetics.
Material: ABL-Laminat, Aluminium-Barriere

Minimum order quantity: 5000 pieces

Delivery time: Ready for shipment in 4 weeks from print approval
Legende:
1. Polyethylene
2.  Copolymer layer
3. Aluminum barrier
4. Kopolymerschicht
5. Polyethylene
Here you can learn more about our new laminate tubes
WHY WE PRODUCE LAMINATE TUBES AT ALL?
Growth market tube production: Around 10.5 billion tubes were produced in Europe in 2017 by the member companies of ETMA - the European Tube Manufacturers Association. Laminate tubes accounted for around 37 percent of this, aluminum tubes for 36 percent and plastic tubes for 27 percent. The number of tubes required is rising continuously from year to year.
Laminate tubes are widely used for mass market cosmetic products and dental care products. Other cosmetic products include hair dyes and hair care products, skin care products, shaving cream, soap and various cleaning products. Many cosmetic manufacturers are increasingly replacing expensive aluminum tubes with laminate tubes because they are less expensive, easier to print, and do not leave unsightly crush marks when squeezed by the user. When laminate tubes are squeezed out, less tube content remains in the tube body. Laminate tubes are also being used more and more frequently for food packaging for cost reasons. All these advantages point to stable and solid growth of the laminate tube market.
These articles may also interest you:


The printing industry under pressure - opportunities and risks of the Corona crisis

Since January 2020, COVID-19 has determined events in all areas of life worldwide. The rapid spread of the virus around the globe prompted the World Health Organization (WHO) to classify the situation as a pandemic as early as March 2020.


Megatrend Silver Society and the impact on the packaging industry

Society is getting older: between 2000 and 2018, the proportion of people over the age of 65 rose by just under 10 percent, according to the Federal Institute for Population Research. Senior citizens thus make up around one third of the total population, and the trend continues to rise.


The plastic tube - production and properties

Tubes are made of different materials. Each material has specific properties, advantages and disadvantages. In order to decide on the optimum tube material, the subsequent intended use and the properties of the respective filling material are the decisive factors.